On October 13, 2016, the SEC finalized rules regarding their new Form N-PORT. Following these developments, FilePoint® created an in-house solution that integrates directly with fund accounting software packages. With a simple per-filing pricing structure, FilePoint's® solution requires no additional software purchases or recurring fees.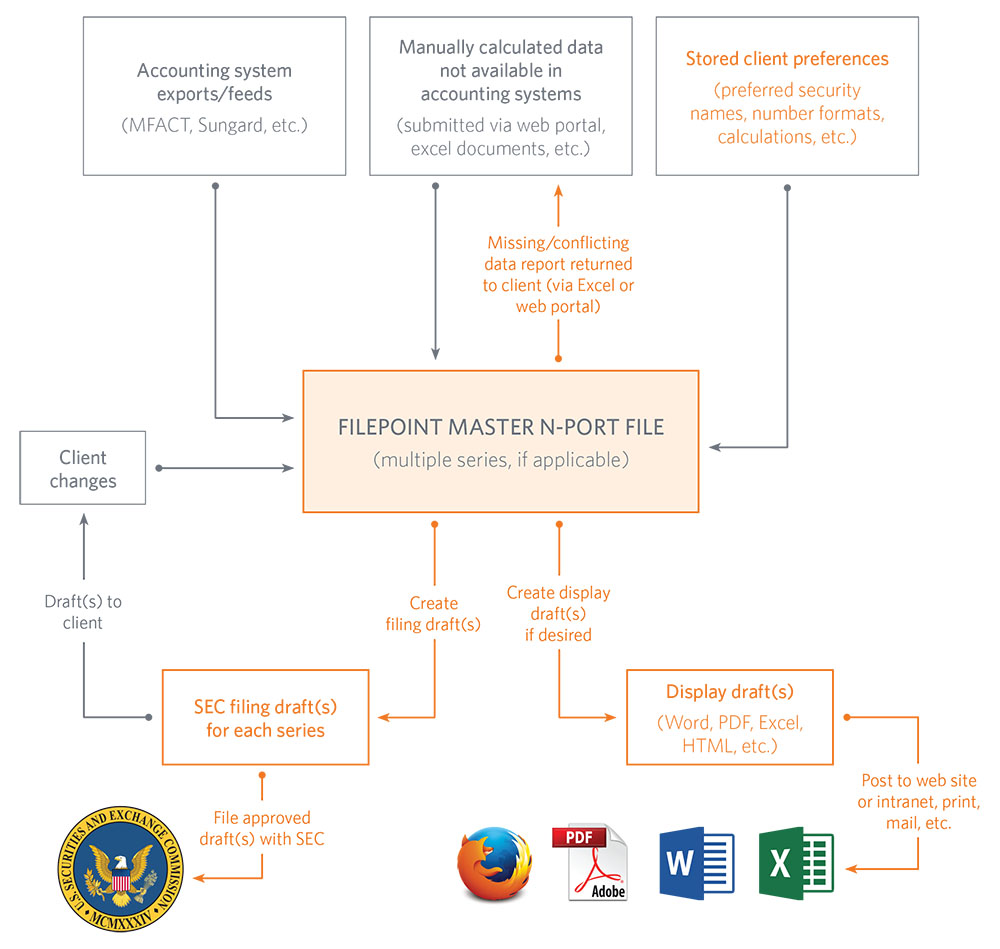 SEC Form N-PORT Highlights:
Must be filed by each registered management investment company and each ETF organized as a UIT, excepting Money Market Funds and SBICs.

Information reported on the same basis funds use to calculate NAV (T+1, typically)

Monthly XML filing for a single fund/series reporting the following (funds need not respond to items that are not applicable):

(a) general information about the fund (name, LEI, etc.)

(b) assets and liabilities of the fund

(c) certain portfolio-level risk metrics (for funds with 25% or greater of debt instruments)

(d) securities lending counter parties information

(e) monthly return information for each class of the fund

(f) flow information: shares sold/exchanged, shares reinvested, shares redeemed

(g) schedule of portfolio investments (much more detail than current N-Q and N-CSR filings)

(h) miscellaneous securities (if any)

(i) explanatory notes (if any)

(j) exhibits (first and third quarter filings must include a human-readable version of the SOI, similar to current N-Q filings)

Compliance dates for submitting reports to the SEC's EDGAR system:

For fund complexes with over $1 billion in net assets:
March 31, 2019 (filing due by May 30, 2019)

For fund complexes with less than $1 billion in net assets:
March 31, 2020 (filing due by May 30, 2020)

While the Form N-PORT SEC EDGAR submission requirement has been delayed from the original date of adoption, large fund complexes will still be expected to maintain the the information required for Form N-PORT as part of their books and records, starting with the reporting period of June 30, 2018

Fund Complex is defined as "two or more management companies (including series thereof) that: (i) Hold themselves out to investors as related companies for purposes of investment and investor services; and (ii) Either: (A) Have a common investment adviser or have investment advisers that are affiliated persons of each other; or (B) Have a common administrator; and […] In the case of a unit investment trust, the term group of related investment companies shall mean two or more unit investment trusts (including series thereof) that have a common sponsor"

Every third month available to the public 60 days after the end of the fund's fiscal quarter. However, the first six months of filings will remain non-public to allow testing/transition period.

For a trial period prior to effectiveness, funds will be permitted to file test submissions.
Analyzing fund structure and existing data sources to help put an implementation plan together

Providing a technology solution to manage a high volume of filings

Providing staffing to assist in the data aggregation, process review and filings

Partnering with data analytic firms to enrich data to address new data challenges

Flexibility to support different tiers or service levels depending on a fund's requirements and complexity

Full support for Form N-PORT, N-CEN and N-LIQUID
Call today for help with your
N-PORT filings.