Financial printing doesn't have to be expensive. At FilePoint®, we've established a number of relationships with some of the best printers and distributors in the country. Whether you are printing in quantities of one hundred or one million, we have the connections and expertise to save you a considerable amount on your printing and mailing expenses. And, with print-on-demand capabilities, we can further enhance the adaptability of your document delivery. From a striking, glossy, full-color job to a simple black and white document on newsprint, FilePoint® and our vendors can handle it. Let us provide a competitive quote for your next print job and you might be very surprised at how much money you can save.
Summary Prospectus: Reduce Your Printing Costs
Correctly implemented, producing a short summary prospectus can substantially reduce your prospectus printing and mailing costs. As mandated by the SEC, funds that utilize the summary prospectus are required to print and mail a full statutory prospectus upon request. FilePoint's print-on-demand solution was tailor-made to help comply with this rule. Instead of printing and warehousing a supply of statutory prospectuses which might never get used, FilePoint® can simply print a single copy and mail it when requested by an investor. Combined with the cost savings of printing and mailing a physically smaller prospectus, it's easy to see how your fund can save money with FilePoint®.
FilePoint® has available an ordering software currently in use for fulfillment of regulatory documents. We will customize this program specific to your ordering process and include it as part of the packaged offering.
FilePoint's® Fulfillment Features: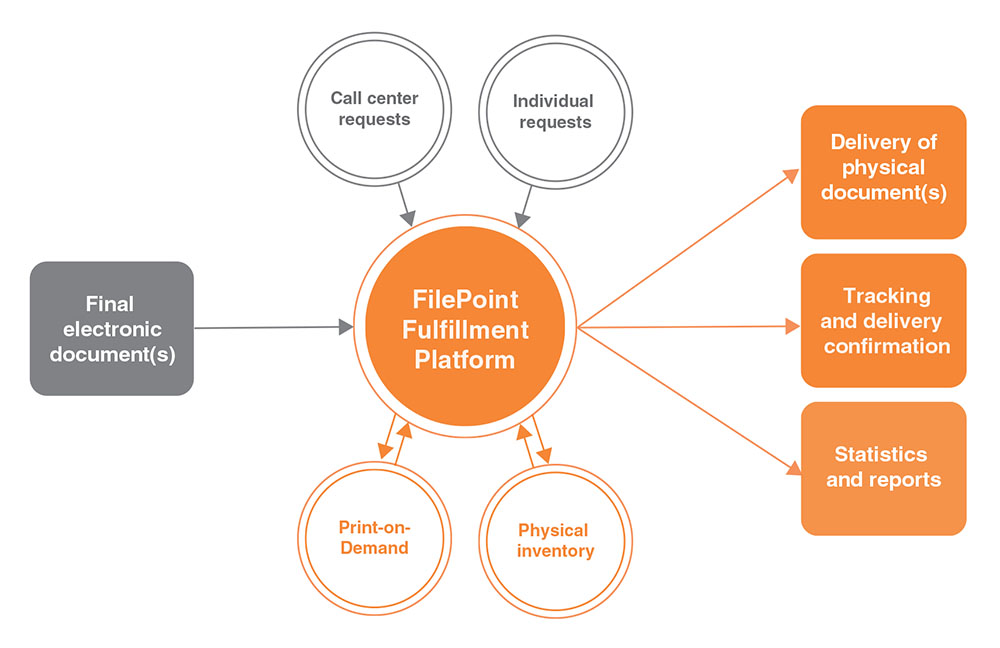 Calculate print quantities needed and amounts to be drop shipped to each intermediary (i.e., Advisors,
Broadridge, etc.).

Coordinate the print and mailing process.

Inventory printed regulatory documents as needed.

Set up and inventory digital files for print-on-demand services (including coordination of supplements).

Provide online portal to submit request for fulfillment.

Provide tracking and delivery information for all print-on-demand requests.

Provide statistics on the number of individual document requests and additional print runs.

Post and maintain web-ready documents, including creation of required links as needed.
Call today and start saving on
your printing and fulfillment.